Innovation Symposium: The Revolution in Kidney Medicine
A full day of discussions and presentations with the leading experts reshaping the future of kidney disease prevention and treatment.
---
Friday, October 18th | 8:30 a.m. to 5:30 p.m. 
Simpson Querrey Biomedical Research Center 
303 E. Superior St. 
Chicago, IL 
---
Keynote Speaker
Chad Mirkin, PhD
Director, International Institute for Nanotechnology 
Professor, Northwestern University 
Chad Mirkin
is a chemist and a world-renowned nanoscience expert, known for his invention and development of spherical nucleic acids, dip-pen nanolithography and related cantilever-free, scanning probe-based nanopatterning methodologies, and on-wire lithography, and contributions to supramolecular chemistry and nanoparticle synthesis. He has authored over 750 manuscripts and over 1,100 patent applications worldwide (over 330 issued) and founded multiple companies (e.g., AuraSense, Exicure, TERA-print, and Azul 3D). He has been recognized with over 210 awards and elected into all three US National Academies. Mirkin served on PCAST (Obama), and he is an Associate Editor of
JACS.
Read all about Chad and his pioneering work in nanoscience here. 
---
View more of the presentations you can expect in the Event Details tab. 
Featuring the leading experts reshaping the future of kidney research, this full day of presentations and discussions will explore the latest innovative technologies and therapeutics in kidney disease and examine how these new breakthroughs could translate to a future beyond kidney disease.
We hope you will join us for this exciting, interactive event!
---
Schedule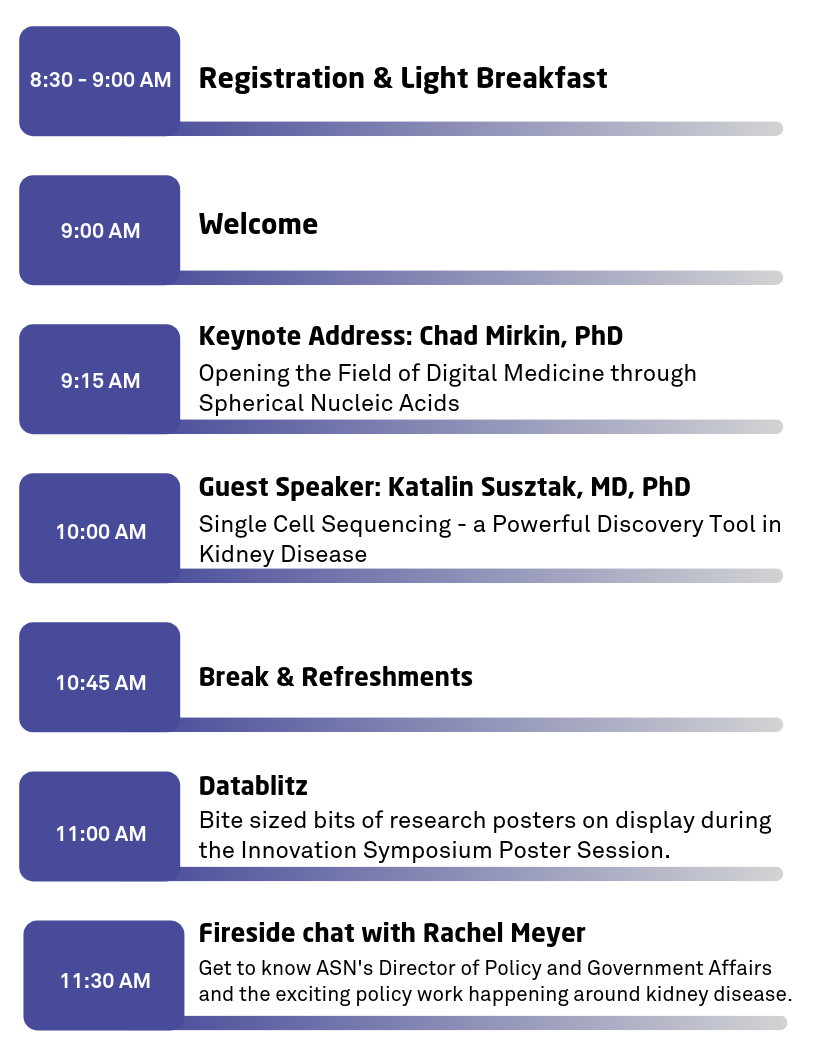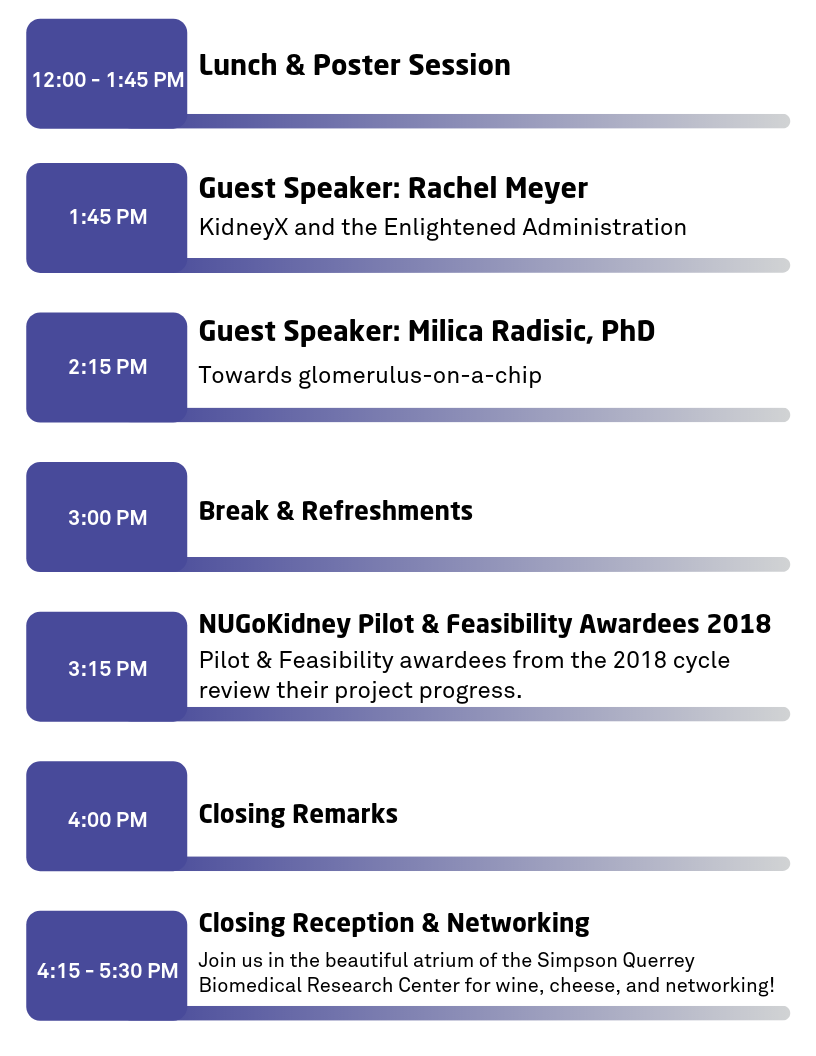 Call for Posters
NUGoKidney is inviting posters for presentation from the academic (students, scientists, faculty, and researchers) and professsional communities at the first ever 2019 NUGoKidney Innovation Symposium. 
Posters should highlight research in topics relevant to nephrology including preliminary results and completed studies. 
NUGoKidney's Innovation Symposium offers an exciting chance to share research and discoveries in nephrology, foster discussion and collaborate with colleagues around new ideas, and generate inspiration to advance therapeutic discovery and implementation in kidney diseases.
Poster space is limited so submit early!
Prizes will be awarded to the top 3 posters. 
Want to participate but need a little help getting to Chicago? 
We're also providing travel reimbursements (up to $750) for 3 trainees / junior faculty. Details on how to apply below. 
---
Important Dates 
Submission deadline: September 6, 2019 
Confirmation of poster acceptance: September 13, 2019
---
Submission Guidelines 
Only one poster may be submitted per participant. 

Participation in the poster session is limited by space and spots are assigned on a first-come, first-served basis. Up to 50 posters are accepted. 

Submit posters by 11:59pm on September 6, 2019 using the form here. 
Poster Content
Title: All titles should not exceed 15 words and should clearly indicate the nature of the study / project / procedure.
Author information: Please list the names of all authors. For the Submitting Author, you will be asked to provide an email address, institutional affiliation, mailing address, and phone number. (Official correspondence will be sent by email, but other contact information is requested to assist with follow-up as needed.) The Submitting Author must be available to present at the Symposium. 
Abstracts: Authors should prepare an abstract of no more than 500 words. Abstracts that align with the Symposium topics or NUGoKidney's mission are encouraged. Please enter your abstract information as accurately as possible. It cannot be changed once you submit the form.
By submitting your poster, you are agreeing that we may distribute your abstract to Innovation Symposium attendees via NUGoKidney's online portal and/or in print.
Poster Instructions
 It is strongly recommended that posters be professionally designed and printed. Posters will be displayed on frames that are 5 feet wide by 3 feet high and secured by push pins supplied at the event. 
Printing and Duplicating Services provides poster printing services to researchers across the Northwestern University.
Poster Set Up 
Presenters may begin setting up their displays on October 18th between 9:30am and 11:30am. Posters must be ready for viewing by 12:00pm.
Authors whose abstracts are accepted are asked to display their posters at the Symposium throughout the conference.
Posters left after 6:00pm on October 18th will be discarded.
Presenters are responsible for all expenses associated with preparing, submitting, and presenting their poster.
Poster Presentation Schedule
Authors should plan to be available to discuss their work with attendees on Friday October 18 from 12:00 - 2:00 pm. Posters should remain on display for additional viewing time during the reception immediately following the close of the Symposium from 4:30 pm – 5:30 pm.
---
Be part of the Datablitz! 
We're inviting poster presenters to be one of 5 oral presentations during the NUGoKidney Innovation Symposium Datablitz. 
What is a datablitz? 
Also known as a 'lightening talk', a datablitz is a series of very short presentations delivered by several different people during a single session. 
How will the Datablitz session work at the NUGoKidney Innovation Symposium? 
When you submit your poster abstract, indicate whether you'd like to be considered for the datablitz. 
For the NUGoKidney Innovation Symposium, 5 presenters will have 5 minutes and 3-5 slides to introduce the data you will later present during the poster session. 
Talks will be given by the first author. 
If there are more than 5 applicants for the datablitz, abstracts will be reviewed and selected by the NUGoKidney Executive Committee. 
Why should I participate in the datablitz? 
The datablitz is a fast-paced overview of your research and is a great way to challenge yourself to share knowledge effectively and efficiently.
It's also a way to advertise your work and tempt Innovation Symposium attendees to visit your poster, which helps get the word out about your exciting work! 
How do I apply to be part of the datablitz? 
On your abstract submission form here, check 'Yes' when asked if you'd like to be considered for the datablitz. Selected abstracts will then be scheduled into the datablitz session scheduled for 11:00am - 11:30am along with the poster session. 
---
Trainee & Junior Faculty Travel Reimbursement
In an effort to encourage early career scientists to advance their research activities and visibility in the research community, NUGoKidney will reimburse travel expenses to the Innovation Symposium (up to $750) for up to 3 trainees / junior faculty. The reimbursement is intended to help cover the cost of accommodation and travel to the Innovation Symposium.
Who can apply? 
You may apply for an Innovation Symposium travel reimbursement if you meet the following criteria:
You are a PhD candidate, lab manager, post-doc, fellow, or junior faculty from an academic institution outside Northwestern  
You have completed your registration for the Innovation Symposium, and you have submitted an abstract. 
You are traveling to take part in the Innovation Symposium. 
Please note: Northwestern students, trainees, faculty, and staff are not eligible to apply. 
How do you apply for travel reimbursement? 
1. Complete your registration for the Innovation Symposium and submit your abstract using the online form. 
2. Once your registration is complete, please send the following documents by email to nephrohub@northwestern.edu by the application deadline of September 6, 2019: 
Cover letter explaining why you would benefit from the travel reimbursement (limit 1-page, single spaced)
Biosketch in format of NIH Biosketch. 
Proposed travel budget Please note: expenses can include airfare on US Flag Air carriers, lodging, food (excluding alcohol), parking, and taxi/rideshare services. Expenses should not exceed $750. 
Copy of your abstract. 
Please note: that applications with incomplete documentation or without a completed registration will not be accepted.

3. Successful applications will be informed by email starting September 13, 2019. 
4. Successful applicants will receive their travel reimbursement in the days following the Innovation Symposium. Please that in order to receive their reimbursement, successful applicants must: 
Be present at the NUGoKidney Innovation Symposium. 
Have presented a poster and be present during the poster session. 
Submit receipts, along with payment details, to nephrohub@northwestern.edu
Cancelled registrations, absence, or no poster displayed will result in the travel reimbursement being revoked from the applicant.
---
Questions or need additional information?
Please send questions about the application process to nephrohub@northwestern.edu 
Back to top