Our Mission
Core B's Mission
Implement a service design for developing experimental biological and small molecule therapeutics targeting kidney disease-specific pathogenesis
Employ a service design for developing cellular therapeutics targeting kidney disease-specific pathogenesis
Execute a service design for precision targeting strategies for therapeutic "payload" delivery to the desired cells and tissues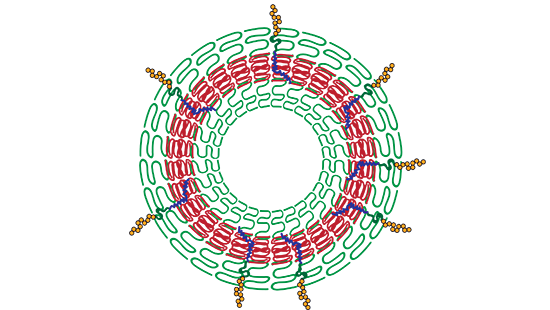 Examples Illustrating Core B Services
Nanoparticle-Carrier for Spherical Nucleic Acid Delivery
In early 2017, NU was granted its first University-sponsored Investigational New Drug (IND) by the FDA to conduct a Phase 0 clinical trial using spherical nucleic acid coated nanoparticles for patients with resistant glioblastoma multiforme (GBM). The development of this therapy exemplifies NU's ability in developing small molecule therapeutics targeting disease-specific pathogenesis and precision targeting strategies of therapeutic "payload" to the desired cells and tissues. The drug target is the BCL2L12 gene overexpressed in GBM tumor cells, conferring resistance to conventional therapy. The drug is gold nanoparticles coated with circular interfering RNAs. The resulting novel therapeutics, NU-0129, actively crosses the blood-brain barrier (BBB) and preferentially targets GBM tumor cells to silence BCL2L12. The therapeutic efficacy of NU-0129 was validated in a murine model of GBM. GMP production of NU-0129 is now completed. The Phase 0 clinical trial has now begun to determine how well the drug crosses BBB in humans.
"Lab on the Skin" for Disease Diagnosis and Monitoring
On Oct. 1, 2017, a critically acclaimed new exhibition opened in New York City's Museum of Modern Art (MoMA), in which Northwestern engineer John Rogers' invention "Lab on the Skin" was prominently featured as the exhibition explores the history of wearable accessories that have significantly impacted the culture and health of our society. "Lab on the Skin", a microfluidic device about the size of a quarter and soft and flexible like the skin itself, collects and analyzes key biomarkers from skin secretions (e.g. sweat) in real time for health monitoring (e.g. during exercise) and disease diagnosis (e.g. cystic fibrosis). Given the unmet needs in early diagnosis of kidney diseases and the potential biopmarkers via surface measurements, the Rogers group has now formed a strong collaboration with nephrology researchers to design wearable microfluidic devices for early diagnosis of kidney diseases and real-time monitoring of treatment efficacies.
Meet Our Navigators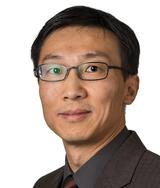 Assistant Professor of Medicine (Nephrology and Hypertension)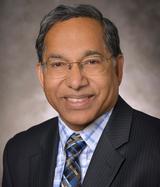 Research Professor of Surgery (Organ Transplantation) and Microbiology-Immunology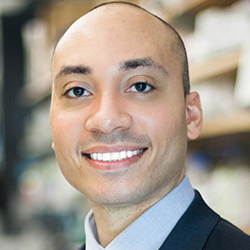 Assistant Professor of Biomedical Engineering