Join us for NOCKS on March 12th with Evan Scott, PhD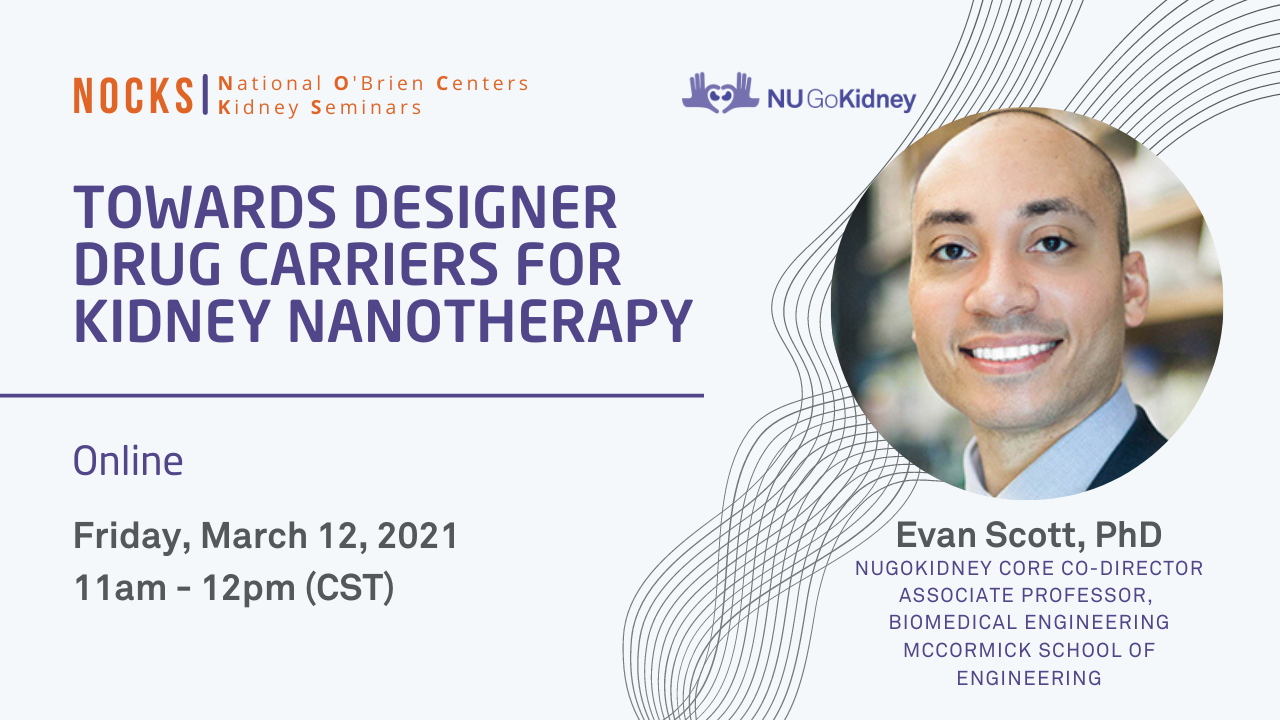 The kidney has largely been overlooked as a target organ for nanoparticle‑mediated drug delivery.
Join us online Friday, March 12th at 11am for a presentation entitled, "Towards Designer Drug Carriers for Kidney Nanotherapy" to explore this next frontier in nephrotherapeutics development with Evan Scott, PhD. In his presentation, Dr. Scott will discuss his ongoing work of developing rationally designed nanomaterials for controlled targeted therapeutic delivery and potential applications to kidney therapeutics.
After the presentation, trainees can continue the conversation and ask Dr. Scott their burning questions in a 'Meet the Professor' breakout just for trainees. Just respond 'yes' to 'Would you like to meet the professor after the seminar?' when you register. 
We hope you can join us!
---
About Our Speaker
Evan Scott, Ph.D., is an Associate Professor of Biomedical Engineering & Microbiology-Immunology within the Northwestern University's McCormick School of Engineering and Feinberg School of Medicine. Dr. Scott also serves as co-director for the Therapeutics Design & Development Core for Northwestern's George M. O'Brien Kidney Research Core Center (NUGoKidney). His lab applies principles from biomaterials science, nanotechnology and tissue engineering towards the development of translational immunotherapies.
Check out recent work from Dr. Scott's lab
here
.
Learn more about Dr. Scott's Research Group
here
.
---
About NOCKS
The National O'Brien Center Kidney Seminars (or NOCKS) is a monthly, Zoom-based seminar series coordinated by The Vanderbilt-O'Brien Kidney Center (VOKC) that take place on the second of Tuesday (1-2pm CDT) or Friday (11am-noon CDT) of every month from November 2020 to August 2020. 
Each of the eight adult and two pediatric O'Brien Kidney Centers in the US, which includes NUGoKidney, takes turns hosting and selecting a presenter to promote regular scientific interactions and share exciting current research happening at each center.