NUGoKidney Special Guest Speaker: May 16th, Neil Lin, PhD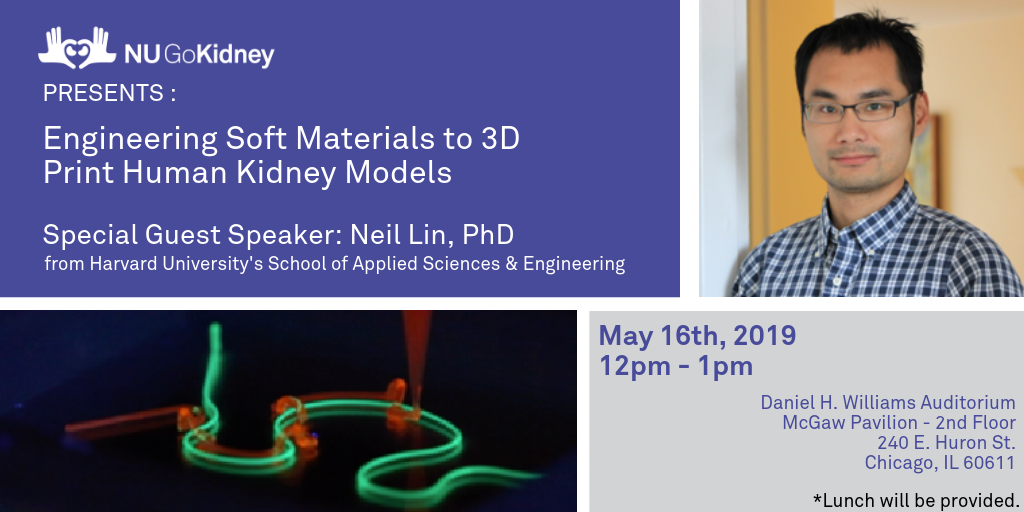 Join us for this NU GoKidney special talk with guest Neil Lin, PhD from Harvard University's School of Applied Sciences & Engineering. 
Bioengineered 3D kidney tissues that emulate human responses could potentially lead a revolution in drug safety testing and ultimately solve organ donor shortage issues. Unfortunately, current kidney-on-chip models lack the 3D geometry, complexity, and functionality necessary to recapitulate in vivo renal tissue. 
Learn from Dr. Lin how these engineering challenges can be addressed with 3D vascularized kidney tubule models created via multimaterial bioprinting and by characterizing their reabsorption properties. 
Bio-sketch:
Neil Lin works as a postdoctoral fellow with Dr. Jennifer Lewis in the School of Applied Sciences and Engineering at Harvard University. He earned his PhD in Physics from Cornell University in 2016. Dr. Lin is originally from Taiwan and received his bachelor's degree in Physics from the National Tsinghua University, Taiwan. He is recipient of NIH Ruth L. Kirschstein F-32 Fellowship (2018) and F. Hoffmann-La Roche Postdoc Fellowship (2016).
Back to top