Celebrating a Summer of Science with SciHigh 2021 Scholars
In an impressive and heartening closing showcase held on August 13th, we celebrated 13 remarkable budding young scientists and the conclusion of NUGoKidney's 2021 SciHigh Summer Program, which provides students with mentorship, training, and hands-on experiences to build their skills and confidence in science and medicine.
This year's hybrid program combined mentorship with in-person, hands-on experiences, and virtual interactive sessions led by experts in nephrology and other fields such as pediatrics, genetics, nanoscience, implementation science, and artificial intelligence to name a few.
The students kicked off their summer of science on June 23rd with a welcome event where they participated in a program orientation, toured a research lab, met their mentors, and played games to get know their fellow scholars.
Incorporating lessons learned from last year's fully remote experience, this year's program adopted a group mentorship model instead of using student–mentor pairs. Students were placed in teams of 3-4 to work with a group of mentors that included experienced researchers and physician-scientists, post-docs, medical students, and/or research staff. Below is a list of our committed and talented mentors and their student teams.
Mentor Team
Students

Rupal Mehta, MD
Anand Srivastava, MD, MPH
Tamara Isakova, MD, MMSc
Patrick Fox, CCRP
Carlos Martinez, CCRP

Victoria Tverdokhlib
Maya Williams
Yahaira Valladares
Tamara Ward
Marciano Teruel

Susan Quaggin, MD, FASN
Yalu Zhou, MSc, MB, CAPM
Hiroshi Maekawa, MD
Maggie Fain

Fernanda Castillo
Jorge Trejo
Mia Mendoza
Bradley Jordan

Holly Kramer, MD
Talar Markossian, MPH, PhD

Gianna Guinto
Mercedes Rodriguez
Amber Constante
Niyah Williams
Students especially enjoyed this addition of working in teams with students from other Chicago high schools this year.
"The implementation of mentor groups was really awesome," said Jorge Trejo, a second-year SciHigh scholar and rising senior at Holy Trinity High School. "It helped make each person more informed about their specific part, and I feel like my knowledge was much deeper because of it. I also really liked getting to meet and make friends with students from other high schools."
The group model also helped students experience first-hand how much science depends on teamwork.
"I had this notion of science, especially of research, that it was just one person in a lab all by themselves – doing all this work with no team. So I wasn't sure about research because I would hate a job that was just me with no one to collaborate with," explained Fernanda Castillo, a rising junior at Jones College Preparatory High School. "I was pleasantly surprised when I saw that wasn't what research was."
In addition to students' mentored research experience, they also completed 55 hours of training and skills building through daily virtual sessions designed to help them:
Explore a specific topic in research or medicine (i.e., Learning Blocks);
Teach them how to develop, assess, and talk about research and deliver a poster presentation (i.e., Stanley Manne Children's Research Institute Seminars);
Have opportunities for hands-on demos, simulations, practice, discussion, socializing, and gameplay (i.e., WorkPlay Blocks);
Develop professional skills to enhance performance and improve communication (i.e., Professional Skills Workshops); and
Learn from the career paths of people working in a variety of scientific and medical disciplines (i.e., Careers in STEMM Conversations).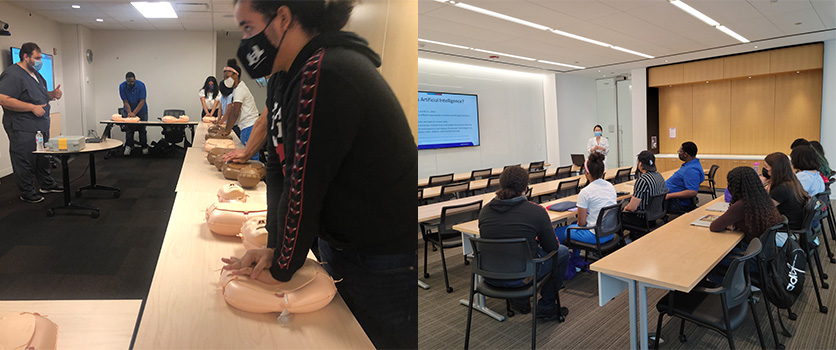 Teamwork truly does make the dream work in science, and we couldn't have pulled off these immersive sessions without the generosity and help from 35 colleagues across multiple affiliates and institutions, including Northwestern Simulation Labs, Galter Health Sciences Library & Learning Center, Northwestern Medicine Enterprise Data Warehouse (NMEDW), Color of MedicineTM, Project Management Institute Chicagoland, Nationwide Children's, Ann & Robert H. Lurie Children's Hospital of Chicago, Stanley Manne Children's Research Institute, and Nature Reviews Nephrology.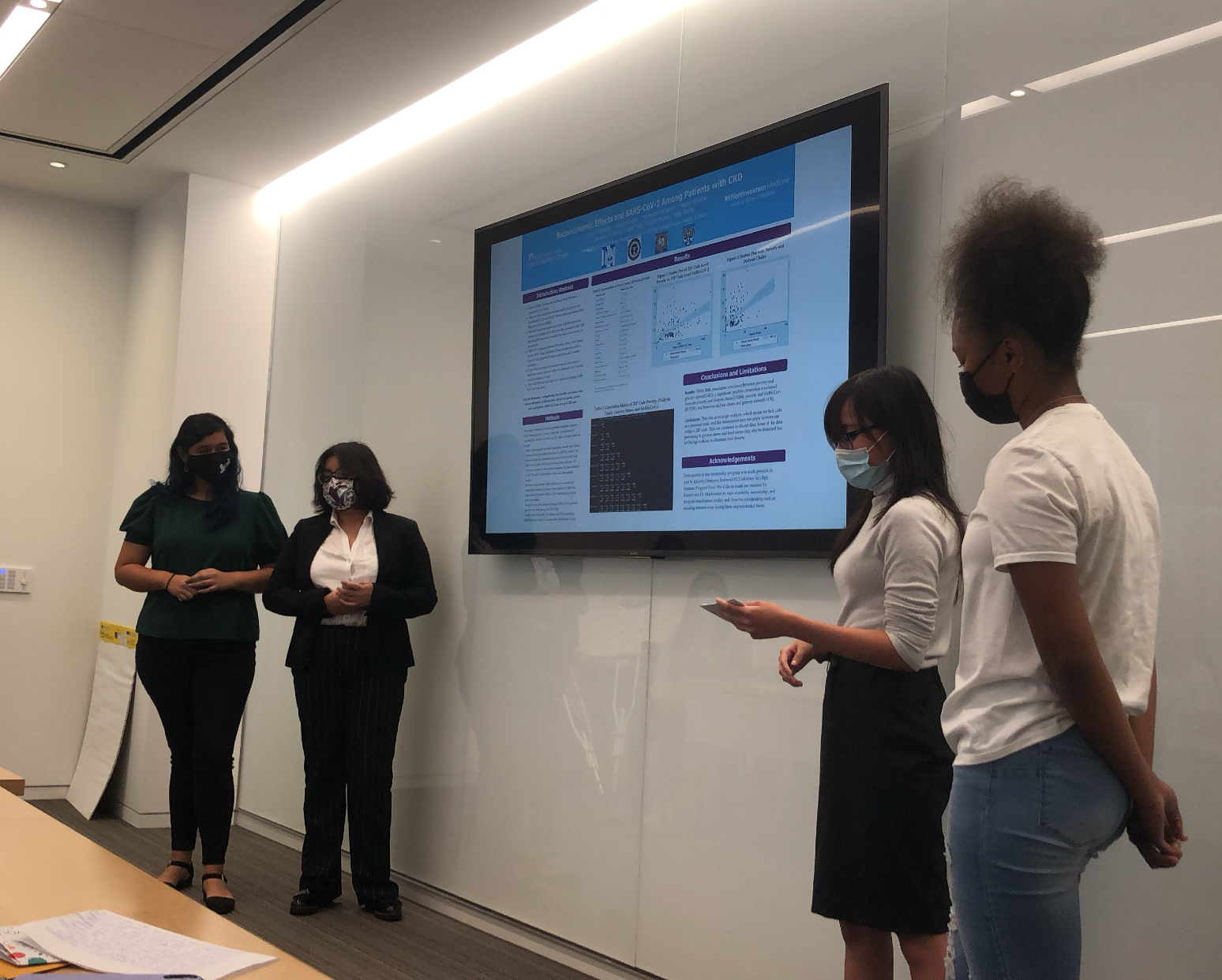 After 7 weeks of learning and hard work, our 3 teams of 2021 SciHigh Summer Scholars presented research posters on their mentored projects that tackled subjects ranging from the secret powers of SGLT2 inhibitors, COVID-19 and the kidney, and the effect of food insecurity on chronic kidney disease. Titles of their presentations are listed below:
SGLT2 Inhibitor Effect on Sweet Pee Mouse Genes – Jorge Trejo, Mia Mendoza, Fernanda Castillo, & Bradley Jordan
The Association of CRP with Death in Critically Ill Patients with COVID-19 – Tamara Ward, Victoria Tverdokhlib, Marciano Teruel, Yahaira Valladares, Maya Williams
Socioeconomic Effects and SARS-CoV-2 Among Patients with CKD – Amber Constante, Gianna Guinto, Mercedes Rodriguez, Niyah Williams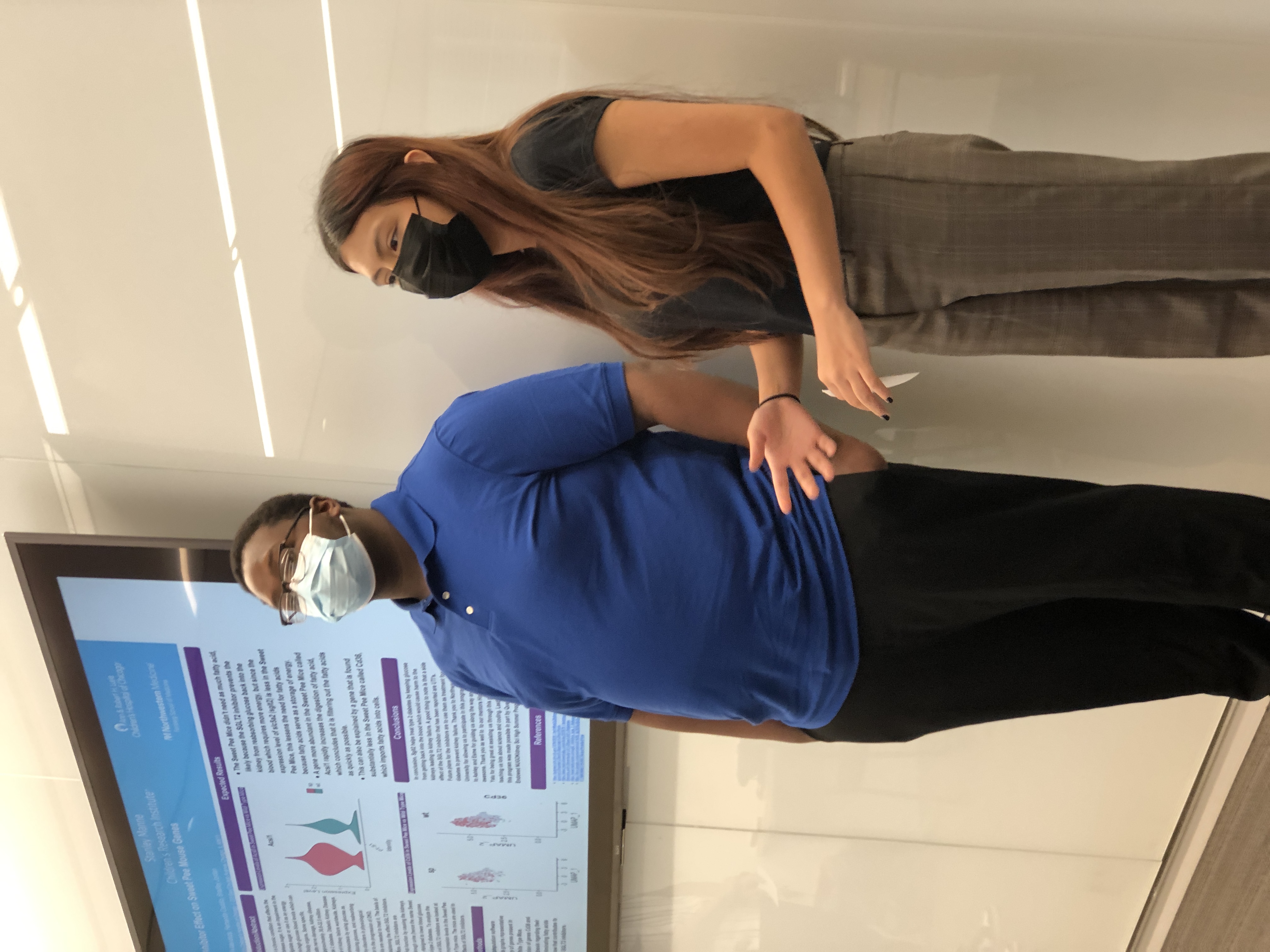 During the showcase, students also shared their summer highlights and takeaways from their experiences. A ;common theme among many of the students was how much the program helped them see the variety of career opportunities and paths into science and medicine.
Rising junior at Walter Payton College Preparatory School and member of Team Sweet Pee, Mia Mendoza reflected on gaining insights into what a profession in science looks like, the various different paths one can take, and how to achieve them.
"It's different for everybody, which is very encouraging," she noted. "I learned very valuable lessons about the resources that will help me on my own professional and educational journey."
All around it was a fun-filled and rewarding summer for everyone involved in the SciHigh Summer Program, and we can't wait to see the heights these budding young scientists take their talents to next!
---
SciHigh was founded to help students unleash their untapped potential through educational, interactive learning opportunities and mentorship. The program is supported by a gift from Northwestern University trustees and supporters Louis A. Simpson '58 and Kimberly K. Querrey.