SciHigh Student Reflects on Her Research Journey
Self-discovery and Research: My SciHigh Journey
By: Chantel Beltran
As a rising senior, I know I have to find things about myself that can stand out from the rest of the crowd. The NUGoKidney Summer SciHigh Program helped me achieve this because I know that a select number of people were able to participate. As soon as I learned a program like this was available to high school students, I was very excited to learn more about it. I always had an interest in medicine, especially because I have family members who are nurses and doctors. I have always been more interested in science and when I learned that other things contribute to illnesses, I was fascinated by the unknown. Coming into this opportunity, I had no idea what to expect nor how to react when I realized I was accepted. Initially, I was nervous that I wouldn't be able to truly be myself or feel comfortable but all those worries quickly vanished. My experience here at Northwestern has allowed me to meet and work with amazing people.
Working with My Nephrology Mentors
When I first arrived at the Division of Nephrology, I was introduced to my mentors, Dr. Tamara Isakova and Patrick Fox, who were very welcoming. One of the things I was able to help Patrick on was making sure every specimen was placed with the right patient that was a part of the Cure GN study. I was also assigned with the task of reorganizing and preparing the bio-specimen for the same study to ensure shipment was well underway. At first, I did not think I had made such an important contribution until I had realized that Patrick had more than one thing to attend to. Not to mention, Patrick overall has a lot of work to do and likes to get things done on time, and I was glad I was able to help cut down the workload.
I had to complete several modules that ultimately helped me achieve a better understanding as to why certain studies and regulations were set in place. To help my mentor as well as the other mentors, I had to make sure I also understood what most of the studies were about. For that to happen, I would have to read a packet full of information about each study that was being conducted. One of the studies I later learned more about is called DART, which stands for Decision Aid for Renal Therapy. In short, DART compares in-person education to an interactive web-based multimedia decision aid that provides information on how to treat chronic kidney disease. I made a poster on this particular study (pictured below), and as I learned more about the study, I also learned more about myself.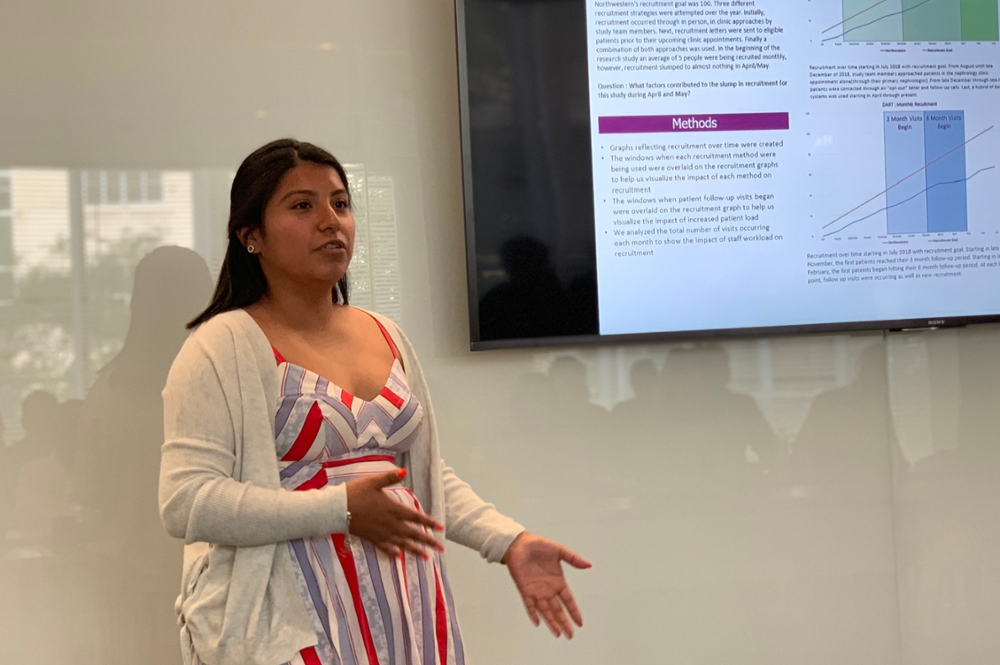 What Learning about Science Taught Me about Myself
I was surprised to learn that I was able to manage my time and work on things independently, which this experience helped realize why that's so important. I honestly was not expecting to work from a cubicle and occasionally go to the clinic to shadow one of my mentors. I think that after spending eight weeks with people who have dedicated their time and effort to the research of the kidney I have more appreciation for science. I think science has always had an underlying significance that goes unnoticed. This experience has made me realize that even after all these studies have been conducted at the end of the day, research is never done. That's why I think to pursue a career in the medical field would be beneficial not just for myself but for everyone around me as well.
In our weekly seminar, we would often have to answer why certain studies were so important and why research plays such an important role in treating patients. Research and medicine have come a long way and if I were to pursue my dream, this is the place to start. It's not every day that high school students have the opportunity to know what it's like to work in an environment filled with knowledge. I can say that this experience has opened my eyes to all the possibilities in the medical and research field.
One of the most important things I have learned about myself is that if I were to pursue a career in the medical field, I would want to interact with patients. I'm pretty sure I had this idea already set in mind but the way Dr. Isakova and Dr. Anand Srivastava spoke to their patients just convinced me even more. Dr. Isakova and Dr. Srivastava were both very understanding and tried to inform their patients about their situation clearly and kindly. After speaking with Dr. Quaggin, she helped me realize that for me to choose the right path for me, I have to know what my interests are and what truly makes me happy. I also learned how to be patient even though I often don't think I am. I say this because of my mentors and their very busy schedule, some days they were just too busy with other things. More times than not whenever I had a question or a problem I would get help from other people who would be kind enough to help me.
After this experience, I have more of an idea of what it's like to work in the medical field and in research. It has also really helped me realize things about myself that I didn't know were even there, and I have learned how to manage my work in a way to help me once classes start soon. I know I will have a lot to talk about once I go back to school because I think everyone should know about all the great opportunities Northwestern and NUGoKidney offered us.
Back to top