SciHigh Student Discovers His Passion for Medicine & Research
Discovering My Passion for Medicine & Research 
By Aaron Jaszczor, SciHigh Summer Program Participant 
Being a part of the NUGoKidney SciHigh 2019 Summer Program has been amazing. I have only been a part of this program for three and a half weeks and it has exceeded my expectations. Throughout my junior year of high school, I found an interest in medicine. My initial interest sparked when I learned about the cardiovascular system in my anatomy class. I was so amazed by the complexity of the human body and how it functioned. I then decided to ask my anatomy teacher, Ms. Lohenry, if there were any summer programs that involved anatomy/biology. And now, several months later, here I am working at Northwestern!
I have a strong connection to Northwestern. I have been to the Northwestern Memorial Hospital a myriad of times, ever since I was a child. I used to race my grandfather to the old cafeteria that was on the second floor for chocolate milk and a donut every time we came here to see my grandmother. I have had some intense emotional situations at this hospital as well. My mother had major back surgery here when I was in third grade, my grandmother passed away in room 932 of the Feinberg building early 2018, and my grandfather had surgery on his prostate in late 2018. I never really took the time to see the whole campus until I arrived here on my first day of the NUGoKidney SciHigh Summer Program.
 Starting My SciHigh Summer 
I was truly amazed by the modern architecture of the Simpson Querrey Biomedical Research Center and its magnificent view of the lake from the 8th floor. On my third day of the program, I met my two mentors, Carlos Martinez and Anand Srivastava, MD, MPH. Carlos Martinez, a clinical research project manager, helps manage a wide range of projects for the Center for Translational Metabolism and Health (CTMH). The CTMH investigates complex biomedical problems to enhance public health. I am working with the nephrology team of the CTMH. Dr. Anand Srivastava is an assistant professor of medicine in the Division of Nephrology and Hypertension, he co-authored a study to identify a new risk factor in chronic kidney disease progression, and he was one of NUGoKidney's 2018 Pilot and Feasibility Grant Funding recipients. Both of my mentors are very dedicated to their studies and heavily contribute to the team.
Before I was able to help with any studies, I had to complete various training modules on topics such as biomedical research, good clinical practice methods, and HIPAA (Health Insurance Portability and Accountability Act). From there I moved onto the IATA (International Air Transport Association) training modules, which covered the basics of classifying and shipping bio-specimens.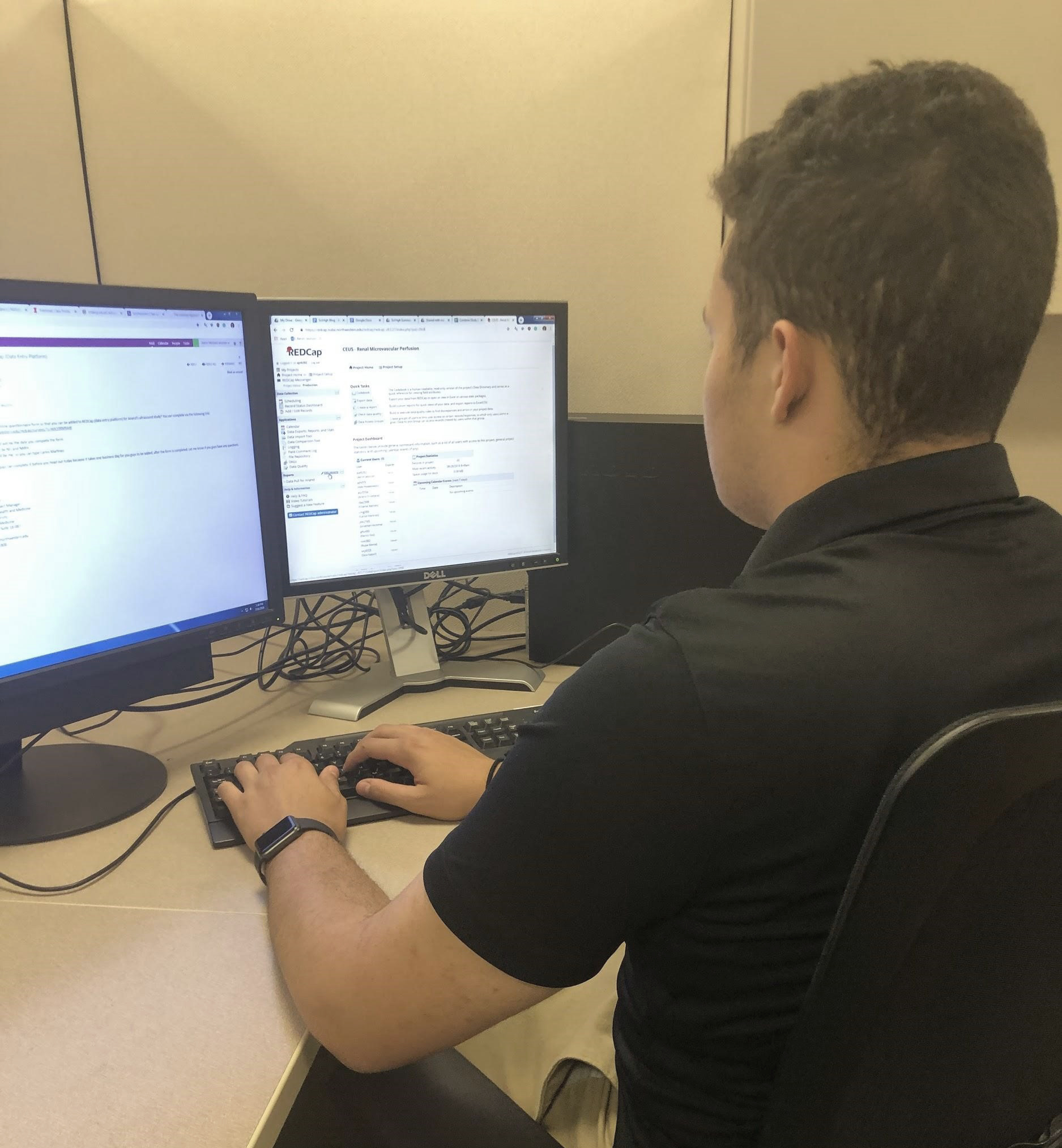 There are around 20 different clinical trials currently taking place here at the CTMH nephrology unit. After completing the CITI and IATA training, I was added to Dr. Srivastava's study known as contrast enhanced ultrasound (CEUS), which aims to determine the association between renal microvascular perfusion and renal function and also evaluate the difference in renal microvascular perfusion in patients with and at risk for acute kidney injury. I was truly amazed by the ultrasound imaging Dr. Srivastava showed me because I did not know procedures like CEUS existed. So far, I have inputted chemistry data from one of the participants a part or this study on a platform called RedCap (pictured left).
SciHigh-lights (So Far) 
The most surprising part of my experience was following Dr. Isokova on her run through the hospital. Throughout Dr. Isokovas run, I was accompanied by a nephrology fellow, a med student, and an intern. I followed them for about two hours as they went and checked on their patients. Their patients were having symptoms of AKI (Acute Kidney Injury). They asked the patients about the previous medical procedures, medications, and what they experience on a day to day basis. This was honestly a great experience because I didn't only get to see their teamwork with patients, I got to see how the team prepared for these visits and everything that occurs in the background.  Even though I wasn't going to be interacting with these patients myself, I still felt an adrenaline rush as we hustled to each room, which was thrilling. Once they concluded their run throughout the hospital, we went back to the dialysis unit where I saw people on hemodialysis. One of the nurses even showed me and another student the process of preparing someone for hemodialysis.
Another surprising part of my experience was when I had the opportunity to observe Dr. Srivastava's clinic check-ups. This was a great eye-opening experience because I had the chance to see what working in the clinic was like. Dr. Srivastava looked over each patient's medical profile, took notes, and prepared for the check-up. One of the checkups, in particular, stuck out to me because Dr. Srivastava brought up dialysis and was explaining the difference between hemodialysis and peritoneal dialysis to a patient. I was impressed by thorough and patient he was, taking the time to make sure his patient understood their condition and treatment.
I had a few unique experiences with my mentor Carlos as well. Carlos has helped me learn how to process biospecimens for studies, how to setup the centrifuge, and how to operate the different types of freezers. I also observed Carlos during a follow-up appointments with a clinical trial participant. At this follow-up, Carlos drew blood from the participant which was really intriguing because he explained how to find a vein. I also had the chance to assist Carlos deposit biospecimens in a freezer at the biorepository and observed Carlos at an IRB panel. I was really shocked about how the IRB operated. They made decisions and revisions pretty efficiently, and they caught onto some very intricate details. Overall, I have learned a vast amount and am excited to learn more.
I have also learned a lot about myself throughout these experiences. In particular, I learned I truly am enthusiastic about the medical field, and I believe this is the career I will be pursuing in college. Participating in this program has magnified my interest in medicine and I am starting to feel passionate about it. Overall, I am very thankful for this extraordinary opportunity. This program has exceeded my expectations, and I am very excited to see what the future weeks bring. I would like to thank everyone involved with the NUGoKidney SciHigh 2019 program. I wouldn't want to spend my summer anywhere else!
Back to top